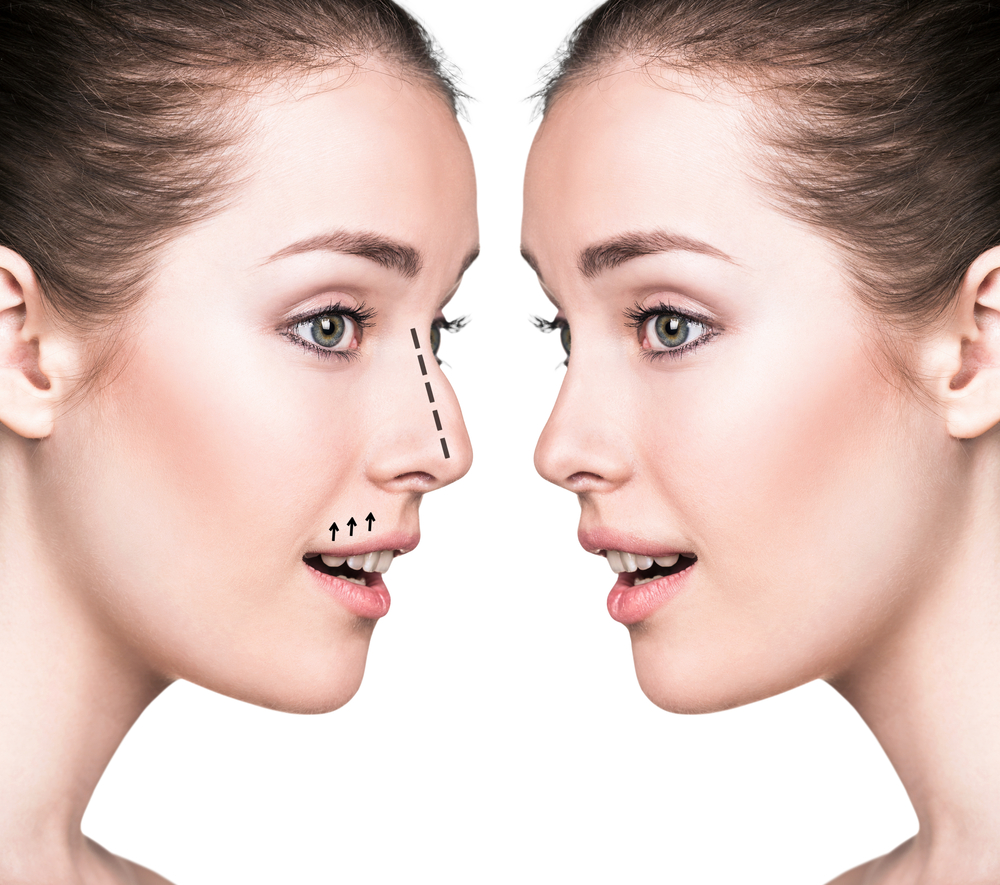 What Is the Best Age to Get a Nose Job?
Are you unsatisfied with the shape or profile of your nose? Do you want a non-invasive, painless treatment option that can transform your nose with zero downtime and long-lasting results? If so, you could be an ideal candidate for a non surgical nose job at Omaha Face Plastic Surgery and Med Spa in Omaha, NE. With this revolutionary nose job treatment, you could achieve your ideal image instantly in just one simple appointment.
What Do I Need to Know About a Non Surgical Nose Job?
A non surgical nose job–also called a non surgical rhinoplasty–is a modern treatment designed to create noticeable, instant cosmetic changes in the nose without the downtime and cost associated with traditional surgery. This nose job uses top-quality dermal fillers to create a new shape and correct common concerns, making your ideal image a reality. The fillers used safely dissolve over time and are absorbed into the body. If desired, follow-up injections can be administered to help maintain your appearance for years to come.
This treatment can address a number of common concerns affecting the appearance of your nose. Your results, which are immediately visible, can be enhanced with touch-up treatments as needed. The final appearance of your nose should be natural and attractive, and no one will be able to tell that you had a treatment unless you choose to tell them. Best of all, you can expect to feel more confident and satisfied with your appearance once your cosmetic concerns are addressed.
What Are the Benefits of This Treatment?
Non surgical nose jobs are a fairly new concept, but they offer many benefits for patients considering non-invasive treatment options. The treatment itself is straightforward, painless, and typically lasts less than 30 minutes in total. This means that you could be in and out of our office during your lunch break and makes this treatment ideal for even the busiest schedule. Your results are visible instantly and there is almost zero downtime required, giving you up to a year to fully enjoy your new appearance.
Our patients find that the non-permanent nature of this treatment gives them the flexibility to test out cosmetic changes to their nose without committing to major surgery. Some decide to pursue surgical rhinoplasty once they are happy with their appearance, while others decide that an easy, ongoing personalized treatment plan is the best choice for them to maintain their cosmetic changes.
Which Concerns Can Be Addressed?
While this treatment is non-invasive nature, it can address a wide range of common concerns related to the shape and symmetry of your nose. In addition, the buildable nature of the dermal filler allows our talented doctors to create dramatic changes even without surgery. Here are some of the most common concerns we address with this unique nose job:
Nasal Bridge Hump
Some patients experience a noticeable hump on the bridge of their nose. This hump can create a rounded nose profile and may exaggerate the size of the nose. Many patients wish to see this cosmetic concern minimized to create a smooth, straight appearance in the nasal bridge. Dermal filler injections are an excellent way to temporarily erase a hump and create a more attractive profile.
Flat or Concave Nasal Bridge
The nasal bridge can have a flat or concave shape, depending on the bone and cartilage structure underneath the skin. Many patients want to achieve a slightly altered shape by adding more volume at the tip of the nose or along the nasal bridge. With strategic filler injections, we can subtly change the natural shape and concavity of your nasal bridge.
Asymmetry
Every nose is different, and no nose is perfectly symmetrical. For some patients, this asymmetry is more noticeable. Dermal filler injections can instantly correct symmetrical concerns by creating a more balanced appearance. This treatment can correct asymmetry around the nostrils, in the nasal tip, along the sides of the nose, and along the nasal bridge.
Nasal Tip Concerns
The nasal tip impacts the overall appearance of your nose's profile. Many patients wish to correct a hooked or cleft tip to achieve a more rounded nasal tip and a smoother nose profile. Our doctors can use dermal fillers to fill out the nasal tip and reduce the appearance of your concerns, ultimately transforming your nose in one simple appointment.
Injuries and Previous Surgeries
Whether you broke your nose playing sports or had a previous surgical nose job that delivered sub-par results, a non surgical nose job can help correct cosmetic issues like asymmetry, humps, and concavity. You can see your areas of concern instantly improve and, with an ongoing treatment plan, your new nose can be a permanent part of your everyday life.
How Long Will Results Last?
Your individual results will depend on your unique concerns and situation. In addition, your results may be impacted by how closely you follow our instructions after treatment. In general, most patients experience results that last between 9-12 months. These results can be prolonged with touch-up injections during this period. In addition, your final results can be protected from accelerated deterioration with proper sun protection habits. This includes wearing sunscreen when you are outdoors and avoiding harmful sun exposure as much as possible.
How Does This Treatment Compare to a Traditional Nose Job?
During your initial consultation, one of our doctors will sit down with you to assess your areas of concern and determine whether this treatment is right for you. The good news is that most patients are eligible for treatment and that the results achievable with this nose job are incredibly similar to those you could see with a traditional rhinoplasty. However, it's important to have informed, realistic expectations before pursuing this treatment. First, a non surgical nose job offers long-lasting results, but it is not able to create permanent changes to the nose.
In addition, this treatment cannot change your nose's structure. If you have a deviated septum, severe injury to your nasal bone structure, or wish to see breathing issues improved, a traditional nose job may be a better option for you. However, our doctors are able to treat almost every cosmetic concern that had previously been addressed with a traditional rhinoplasty, all with minimal discomfort, no downtime, and instant results. For most of our patients, this treatment delivers results comparable to a surgical nose job with fewer risks, a lower cost, and more convenience.
What Is the Best Age to Get a Nose Job?
Getting a nose job depends on your personal preferences and image goals. Some patients wait until signs of aging, injury, or previous surgery negatively impact the appearance of their nose, while others pursue treatment while they are younger. Our recommendation is to wait until your nose is fully developed and at its adult size before pursuing a nose job, whether surgical or non surgical. This happens around age 14 for girls and age 16 for boys. One of our doctors will examine your nose during your initial consultation to determine whether it has reached its full size and is eligible for treatment.
Am I an Ideal Candidate?
If you are unsatisfied with the appearance of your nose, you could be an ideal candidate for this treatment. A good patient is generally healthy and has a fully developed, adult-sized nose. You should also be free from any medical conditions which may interact negatively with this treatment. In addition, your concerns should not be structural in nature. Finally, some severe cosmetic concerns may be better addressed by a surgical nose job. If you have any questions about your candidacy for treatment, one of our doctors can help you evaluate your concerns during an initial consultation.
What Should I Expect?
Consultation
Your first appointment will be with one of our doctors, who will help you determine whether this treatment is right for you. Your doctor will review your medical history, discuss your ideal results, and examine your nose. If you are a good candidate for treatment, they will recommend a treatment plan and may take pictures of your nose for you to compare to your final results. Your doctor will give you specific instructions to follow before your first treatment. It's important that you follow these instructions carefully to ensure that you see optimal results.
Treatment
Your appointment will take place in our office. We recommend that you avoid wearing makeup in the target area. Your doctor will clean your nose and apply a topical numbing cream to keep you comfortable during the injections. Next, they will use a small, fine syringe to inject the dermal filler into the predetermined regions of your nose. Your doctor can build volume and correct concerns instantly. Once they are finished, you will be able to see your final results and can return to your normal daily activities with no downtime.
Recovery
For the first few hours after treatment, you may notice mild bruising and tenderness in the injection sites. This is normal and typically subsides in 24-48 hours. To reduce your risk of bruising, avoid taking anti-inflammatory medications like ibuprofen and avoid drinking alcohol for 24 hours. To protect the dermal filler as it settles, you should avoid touching, pressing, or rubbing the treated areas for approximately two weeks. You should plan to avoid wearing glasses during this time. Your skin should be completely healed within two to four days of treatment.
Results
Your final results are visible immediately, but they may be impacted by mild swelling caused by the injections. Once your skin has healed, you can enjoy your brand-new appearance. You should notice that your areas of concern have improved and that your nose's shape, curvature, and profile are subtly changed. Thanks to the natural final results achieved, you will still look like yourself. However, your nose will be expertly enhanced and you should feel more confident and comfortable in your own skin.
For most patients, results from their treatment last nine to 12 months, during which time you may choose to pursue touch-up treatments to prolong your results. Approximately one year after your first appointment, the dermal filler breaks down and is absorbed safely into the body. Once this occurs, you have the option of continuing treatment to maintain your ideal image.
Contact Us to Learn More!
If you want to change the appearance of your nose, you could achieve long-lasting results without invasive surgery and significant downtime. A non surgical nose job can deliver dramatic results without interrupting your life. To learn more about this transformative nose job and whether it's right for you, contact our team of professionals at Omaha Face Plastic Surgery and Med Spa in Omaha, NE to schedule an initial consultation today! We look forward to helping you achieve your cosmetic goals!