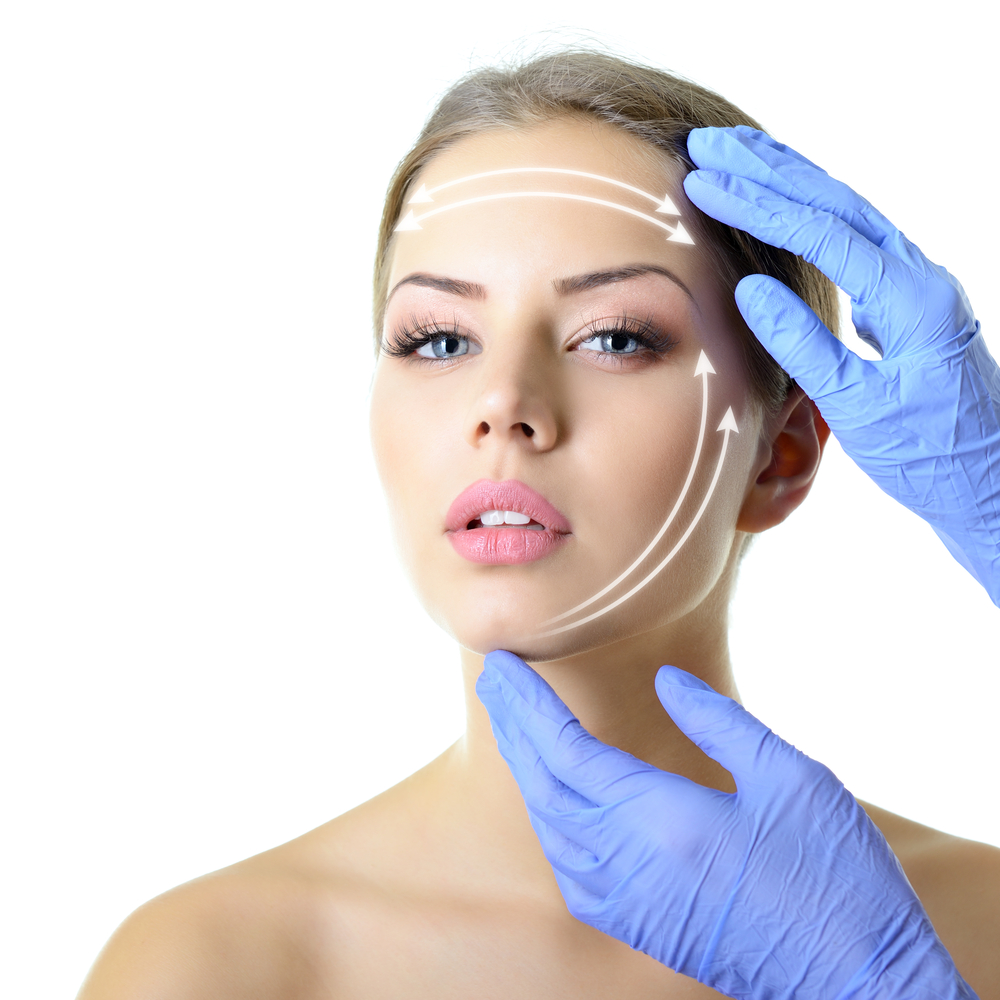 If you start the day looking in the mirror and wondering how you seemingly aged overnight, you may have considered facelift surgery. This popular procedure has been giving people more youthful appearances for years, but it's also had its fair share of bad press with botched jobs and unnatural results. In addition, many people are unsure about how long the results will last. At Omaha Face Plastic Surgery and Med Spa in Omaha, NE, we are proud to offer this transformative procedure, which we modify and personalize for each patient's needs.
What Is a Facelift?
Known as a rhytidectomy in the medical world, the facelift is the most extensive course you can take to restore your younger appearance. While anti-aging treatments and injectable fillers can give you a fresh face for a short time, the results of these methods always fade.
When this happens, you're left with the fine lines, wrinkles, and sagging skin associated with growing older. A facelift is designed to surgically lift, tighten, and secure facial and neck tissues that have lost their elasticity over time. This literal lift helps smooth away wrinkles and offers long-lasting, semi-permanent results.
What Conditions Can This Procedure Correct?
While you don't need to have severe signs of aging in order to be an ideal candidate for surgery, there are usually major areas of concern that patients want to address. The face and neck are both the main regions affected by surgery. In the neck, common areas of concern include the platysmal bands, which are two thin strips of muscle that become more prominent with age, and submental fat and skin laxity, which results in sagging skin commonly known as turkey neck.
In the facial region, the areas of concern are typically along the jawline, around the mouth, and in the midface. These areas show signs of aging quickly, but all can be improved with one of the different lift procedures. Jowls, or loose skin along the jawline, can be tightened, while nasolabial folds, or smile lines around the mouth, are greatly improved by a lift in the surrounding skin. Finally, the midface, cheeks, and under-eye area, which tend to droop and lose elasticity, can be addressed by one of the types of lifts offered by our experienced team.
Types of Lifts
This procedure is not one-size-fits-all. In fact, many of the "wide awake," plastic facelift results occur because an inexperienced surgeon failed to take into account a patient's particular concerns and severity of facial aging.
We spend time explaining the different procedures available and make our professional recommendation for the option which will address your unique concerns. Here are some of the most common lifts offered and what each procedure entails:
The Mini Lift
This is the least extensive procedure, which is often appropriate for patients who are just beginning to show signs of aging. It focuses on elevating the cheeks, which are one of the first areas to lose volume and begin sagging.
During the surgery, a small incision is made by the ear, and recovery is shorter than other procedures. However, the results are more subtle and other areas of the face and neck are not affected.
The Deep Plane Lift
Also called an extended lift, this is probably the procedure that comes to mind which you think of a classic facelift. However, the results from this lift are seen to last longer thanks to the modern method of creating lift not only in the skin but also in the superficial muscular aponeurotic system (SMAS).
The benefits of this procedure are that it addresses signs of aging in the jawline, neck, and cheeks in one surgery and that the lift achieved affects both the skin and the deeper tissues. Minimal liposuction is usually employed when working on the neck to contour. The incision, which is made around the ear and along the hairline, is discreet. The recovery time is longer due to the extensive nature of the surgery but, when performed by a qualified and experienced surgeon, results can last years.
The Neck Lift
This lift addresses the neck and barely affects the face. Its aim is to create a smooth, attractive appearance in the neck while tightening the skin and contouring the neck muscles. The traditional incision typically wraps around behind the ear and is mostly obscured by the hair.
The Midface Lift
When lifting the midface, a different incision is used to create a more vertical and dramatic lift in the cheeks and midface region. The incision is usually under the lower eyelid and, when healed, is barely noticeable despite its location. Most patients who are recommended for this lift have a naturally low cheek fat pad, and this surgery is often combined with fat pad correction and minor changes around the under-eye area to enhance the results.
How Long Will a Lift Last?
For many patients, a facelift surgery performed by an experienced surgeon will last at least 5 years. However, our patients routinely experience results that last 10-15 years or longer. Since aging continues, your final results will naturally be impacted over time, and there is no truly permanent solution to keep signs of aging at bay.
However, a facelift will help reverse signs of aging and slow the process of aging, especially when combined with additional treatments to help you reach and maintain your ideal image.
Benefits
When it comes to correcting signs of aging in the face and neck, no other treatment or procedure is able to deliver the dramatic, long-lasting results achieved by this surgery when performed by an experienced surgeon. While its invasive nature means that this option is not right for everyone, the patients we recommend for surgery find that it exceeds their expectations.
Our dedicated staff will walk alongside you in order to ensure that your experience with preparation, surgery, and recovery is simple and straightforward.
What Can I Expect?
If you're considering one of the different lifts detailed above, you may be wondering what you can expect from start to finish. While every surgery comes with some amount of careful preparation and guidelines to follow during recovery, our team will provide you with personalized instructions to fit your unique situation. Here is the general process you can expect when you pursue this procedure.
Consultation
The first step in your journey to a more youthful appearance is an initial consultation with our surgeon. This is a critical appointment that will help us determine your candidacy for surgery, allows us to recommend the best lift for your concerns, and give you the opportunity to ask any questions you may have. Your doctor will examine your face and neck and explain how the lift they recommend will correct the signs of aging they see in those areas.
During this appointment, you should be prepared to answer questions about your medical history and disclose any medications, supplements, and herbal remedies you take regularly. Once your doctor determines that you are an ideal candidate for surgery, you'll be able to begin to prepare for the procedure.
Preparation
The main part of preparing for this procedure is ensuring that you limit stress and follow your doctor's instructions for coming off certain blood-thinning medications and alcohol for two weeks before surgery to minimize your risk of excessive bleeding. You should have a family member or friend commit to accompanying you to surgery and driving you home afterward.
Since you'll need to have some downtime directly after surgery to help your body begin to recover, you should ensure that you take the required amount of time off work. You should also make sure you have a week's worth of groceries and supplies. Some patients choose to cook and freeze meals to simplify their recovery time.
You should ensure that you have a comfortable space to rest and recover, choose some favorite shows, books, or magazines to pass the time, and arrange for childcare or pet care if needed. Finally, you should abstain from eating or drinking the night before your surgery. Your doctor will give you specific timelines and additional instructions, which should be followed carefully to ensure optimal results.
Procedure
On the day of your surgery, you should arrive with your family member or friend to fill out any paperwork and speak with your doctor. If you have any questions or concerns, you can share them with your doctor at this time. Once you're prepared, you will be given a general anesthetic and fall asleep for the entirety of the surgery. Your doctor will perform the predetermined surgical technique, creating the desired lift and contouring in the face, neck, or both, depending on the lift you chose.
The surgery lasts between 1.5-5 hours, depending on the lift performed. Once your doctor is finished, you will be closely monitored as you wake up. You will be given painkilling medications to keep you comfortable, and you will typically be observed for 1-2 hours before you are able to return home.
Recovery
While recovery time will differ depending on the lift performed, you can expect to spend at least a week at home. You will be able to take mild painkilling medications, although patients report that discomfort levels are manageable even after the most extensive lift. You may notice some swelling and bruising, which is normal and usually subsides after 3-4 weeks.
You should plan to remain at home for the first few days. While short, relaxed walks are recommended to promote blood flow, you should avoid any major activity and should plan to rest as much as possible. A follow-up will usually be scheduled 1-3 days after surgery so that your doctor can ensure that the incision sites are healing well.
Your sutures will be removed 1 week after surgery and, for those who had less intensive surgery, returning to work at this time is normal. For those who had a more in-depth surgery, we typically recommend 2 weeks for recovery before returning to work. After 4-6 weeks and with your doctor's approval, you can begin to exercise regularly and return to all of your normal activities.
Results
While you'll see an instant lift after surgery, it typically takes 4-6 weeks for incision sites to heal. After this time, all swelling should be gone and you should see a noticeable improvement in wrinkles and fine lines in the face and neck. Your face will continue to heal and the incisions will fade steadily over the next 6-8 months. Final results typically last between 5-15 years.
Who Is an Ideal Candidate?
This procedure is ideal for adults who wish to address signs of aging in the face and neck and attain noticeable, long-lasting results. Most candidates are between the ages of 40-60, but there are no restrictions on age.
An ideal candidate should be able to stop taking blood-thinning medications for several weeks before and after surgery, be healthy enough for general anesthetic, and be free of any conditions which may exclude them from surgery. Your doctor can help you determine your candidacy for this procedure.
Contact Us to Learn More!
If you're ready to say goodbye to wrinkles and loose skin and see your face transformed, contact us at Omaha Face Plastic Surgery and Med Spa in Omaha, NE to set up an initial consultation today! We look forward to serving you!