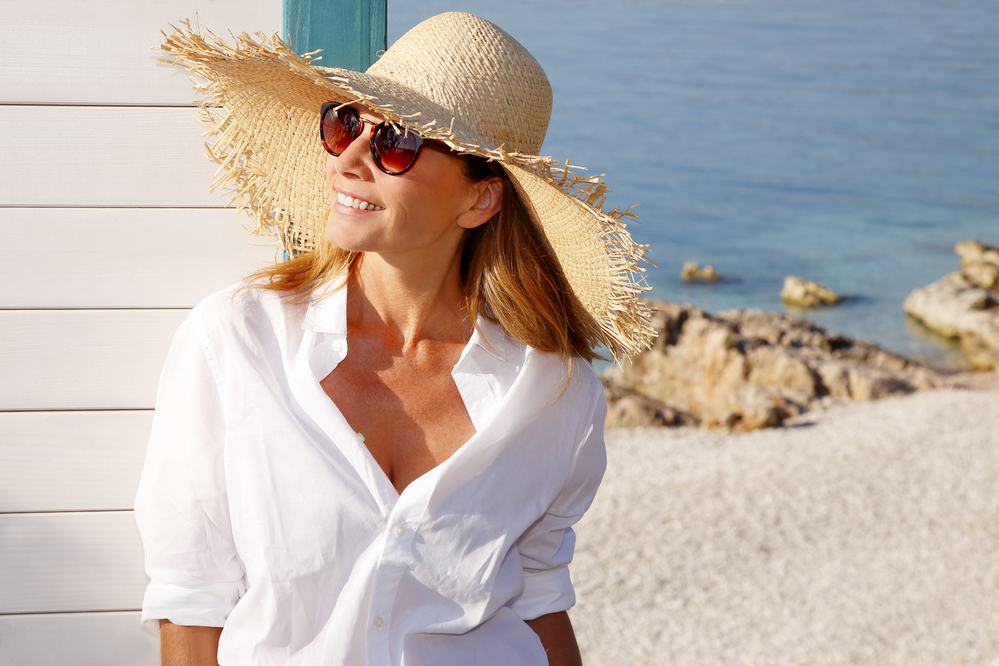 How Many Juvederm Treatments Do I Need?
Chances are you've heard of Juvederm, the dermal filler that can minimize wrinkles and restore youthful contour in an aging face. But did you know this easy treatment almost immediately improves the look of the face, delivering full results in just 2 weeks? At Omaha Face Plastic Surgery and Med Spa, in Omaha, NE, our patients love the way this treatment can turn back the clock after just one treatment.
How Many Juvederm Treatments Will I Need?
For most patients, a single treatment is enough to noticeably improve their skin and achieve their cosmetic goals. This is a temporary filler that does its work before being safely and naturally absorbed by the body. A single treatment usually lasts for up to a year, especially in parts of the face that aren't particularly active, such as under the eyes.
Injections in areas where there's lots of movement, such as the forehead or lips, sometimes wear off a little sooner. Patients who want to maintain their new look often return for touch-ups every 6 to 12 months.
The number of syringes of filler administered during each treatment will depend on your age and what you are trying to accomplish. One or two syringes are usually all that's needed to treat a single area, but some dermal filler patients may require 3 or 4.
What Is Juvederm?
Dermal fillers are injectable gels that support the skin from beneath. Once in place, they can fill in wrinkles, soften folds like the ones that often frame the mouth, and reshape areas of the face that have begun to sag. These injectables, which can be administered all over the face, can even be used to fill in hollows under the eyes or plump the lips.
There are several different types of fillers on the market, each of which has a slightly different formulation. Some fillers are also designed to work especially well on specific areas of the face. Juvederm is comprised of hyaluronic acid, a molecule that occurs naturally in the body and helps the skin retain moisture.
Once in place beneath the skin, this hyaluronic gel acts like a sponge, attracting moisture and keeping the skin hydrated. This filler also stimulates collagen production, which further renews the skin. Our practice offers four different versions of Juvederm: Ultra, Ultra Plus, Voluma, and Volbella. Voluma is specifically designed to lift the cheeks, while Volbella is used as a lip filler.
What Can I Expect During Treatment?
Dermal fillers are an easy in-office treatment that can usually be performed in less than an hour. At the start of your appointment, we may make a couple of light marks on your skin that will serve as reference points as your injection is performed.
Most patients find the injections are comfortable, but if you have more sensitive areas, we can apply a topical numbing cream or anesthetize the area in another way. We'll then inject the gel, and may gently press or massage the skin around the injection site to ensure that the filler is distributed in a way that will best accomplish your cosmetic goals.
Will I Need to Set Aside Time to Recover?
No. Most patients can return to their regular schedules immediately, and some even schedule these treatments during their lunch hour. Patients have no significant restrictions after a dermal filler injection. You can even reapply makeup immediately after your treatment if you wish.
How Quickly Will I See Signs of Improvement?
Juvederm works quickly to address your cosmetic concerns. Most patients see results as soon as their treatment is complete because the presence of the gel beneath the skin immediately helps plump and smooth it.
During the roughly 2 weeks after your treatment, this dermal will settle into place and meld itself with the tissue for long-lasting improvement. During those initial 2 weeks before the filler settles, we'll be able to tweak your results if needed. Compared to some other fillers on the market, this one settles into its long-term position fairly quickly.
Is This Injectable Safe?
Yes. This dermal filler won FDA approval in 2006 and has been widely and safely used on patients ever since. This is one of the most common non-invasive cosmetic treatments in the country.
What Advantages Are Associated With This Filler?
Treatments Are Easy and Convenient
Dermal fillers are a great option for patients who want to smooth over signs of aging but can't commit to a more involved treatment. This non-invasive treatment can be performed in our office in less than an hour, making it much more convenient than plastic surgery. And there is no recovery period necessary. These appointments can easily be fit into a busy schedule.
You Won't Look Overdone
Patients sometimes worry that a dermal filler will leave them with a plastic or overdone appearance. But the skilled professionals at our practice perform these injections in a way that offers natural results. You'll look younger and your appearance will be refreshed, but you won't look overdone. You'll just look like a better version of yourself.
We Can Adjust Your Results
Most patients who have had a dermal filler are pleased with the outcome, but if you decide you want to dial back the results you get, we can adjust them for you during those first 2 weeks after your treatment. During a return visit to our office, we'll inject hyaluronidase, a substance that can ease, or erase your results. Patients like having this option to customize their results.
Who Is a Good Candidate?
If you're interested in finding out if you're a good candidate for this dermal filler, the first step is to schedule a consultation with the friendly professionals in our office. During this appointment, we'll review your medical history, evaluate your skin, and talk with you about your cosmetic concerns and goals.
This appointment will be a good time to mention any allergies or sensitivities you have. We'll work with you during the consultation to determine whether this dermal filler is the best treatment approach for you. There are several signs you may be an especially good candidate.
You're Bothered by Signs of Aging
Dermal filler candidates are patients who are bothered by signs of aging and interested in non-invasive approaches to rejuvenating their appearance. If you look older than you really are, and you feel like your appearance is holding you back, it may be time to explore a dermal filler. A filler makes it easy to achieve your goals.
You're in Good Health
Although this is a non-invasive treatment that does not involve incisions, the ideal patient is in good physical health and is capable of healing quickly from the injections.
You're Realistic
The results achieved with dermal fillers vary. That's why candidates must be emotionally healthy and realistic about the range of possible outcomes. It's also important to remember that while this treatment will noticeably refresh and improve your appearance, it won't make you look 18 again.
Your Skin Is in Good Shape
It also helps if the skin around the injection site is healthy and free of infection and inflammation. If the skin is irritated, we may need to postpone treatment.
Dermal Filler Q&A
What Other Fillers Does Your Practice Offer?
Our practice also offers Restylane and Sculptra. Restylane is also a hyaluronic acid injection that can plump the skin, soften signs of aging, and add volume to the skin. Although it is best known for its use in rejuvenating the face, Restylane is sometimes used to treat aging hands. Sculptra contains Poly-L-Lactic Acid, a substance that is also used in dissolvable sutures. In addition to helping fill the face, Sculptra stimulates collagen production.
Do I Need to Know Which Dermal Filler I Want Used and Where?
During your initial consultation, we'll want to hear about what's bothering you, but we won't expect you to have already decided on a particular filler. By talking with you about your cosmetic goals, and evaluating your skin, we'll be able to make a recommendation about which filler will best meet your needs.
How Do Dermal Fillers Differ From Botulinum Toxin Injections?
Dermal fillers and botulinum toxin injections work in different ways to improve the appearance of the face. While dermal fillers focus on rebuilding the underlying infrastructure of the face in a way that smooths wrinkles and improves contour, botulinum toxin injections are used to target specific lines and wrinkles.
Botulinum toxin injections work by freezing some of the underlying muscle activity that's a part of repetitive facial expressions. By limiting that activity, the lines and wrinkles that result are minimized. Our practices offer two different botulinum toxin brands: Botox and Dysport.
Can Dermal Fillers Be Combined With Other Services?
Patients often combine other cosmetic services, such as botulinum toxin injections, with dermal fillers. During your consultation, we can recommend a treatment combination that will best meet your needs.
Are There Steps I Can Take to Maintain My Results?
Some of the same steps you take to keep your skin healthy on an ongoing basis will be important to continue after a dermal filler treatment. Drinking plenty of water, getting an adequate amount of sleep, and avoiding smoking are essential parts of skin health. So is keeping up a good at-home skincare regimen that includes cleansing, moisturizing, and exfoliating.
At What Age Should I Begin Using Dermal Fillers?
There is no magic age at which a patient should begin using dermal fillers. Everyone ages at their own pace. And while some patients aren't bothered by the early signs of aging, others want to aggressively fight off those natural developments.
A good rule of thumb is that if you're starting to be bothered by signs of aging, it's worth scheduling a consultation and learning more. Those who go ahead and schedule treatment as soon as aging becomes a concern often see the most effective results. If you delay treatment, a dermal filler alone may not address those signs of aging.
Do Men Ever Use Dermal Fillers?
Women are not the only ones who seek out cosmetic treatments including dermal fillers. Given that many of us are seeing more photos of ourselves than ever on social media, both men and women are increasingly looking for non-invasive ways to fight back against signs of aging.
How Much Does This Treatment Cost?
The cost of a dermal filler treatment is determined by the number of syringes of filler needed. Syringes range from $400 to $800 each, and for most patients, only one or two syringes are needed.
Get Started Today
If you're ready to fight back against signs of aging with just a single treatment, it may be time to consider Juvederm. This no-hassle injectable offers great, long-lasting results. Call Omaha Face Plastic Surgery and Med Spa, in Omaha, NE and schedule your Juvederm consultation today!