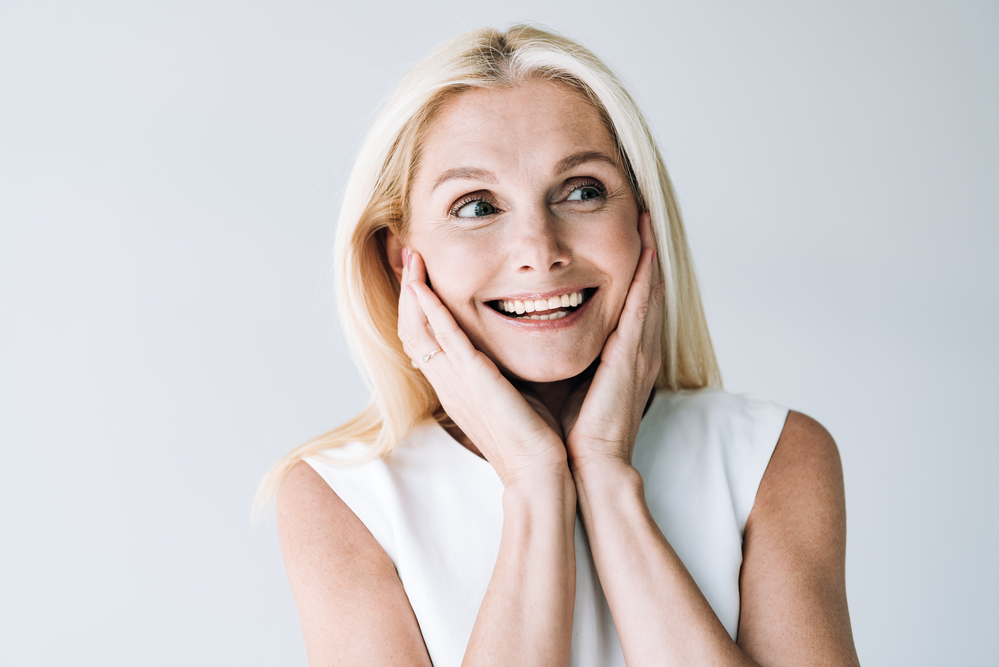 Nasolabial folds are lines that form in the skin that is located around your mouth and nose. These lines can give your face a severe, tired look. In addition, these wrinkles will become deeper and more prominent as you get older. Fortunately, you can correct these folds by getting a Restylane treatment from the experts at Omaha Face Plastic Surgery and Med Spa in Omaha, NE.
1. It Contains Gentle Ingredients
Some beauty treatments and products use damaging ingredients to fix your folds, age spots, and other imperfections. For example, you might use a product that causes your skin to develop burns, rashes, or other issues. These problems can be very uncomfortable, and you might feel embarrassed to go out in public when you are recovering from this type of beauty treatment.
Fortunately, all of the products in the Restylane collection use a very gentle method to fix your facial lines. These injectable products smooth away these wrinkles with hyaluronic acid. This gentle ingredient is a kind of sugar that your body creates on its own. When we add this ingredient to your tissues, it will increase the volume in the lower area of your face. As your skin becomes plumper, your nasolabial folds will improve.
2. It's Very Comfortable
You might feel a bit worried when you learn that we will use a needle to administer this injectable product. Although your feelings are very normal, there's no need to feel frightened before you receive your Restylane injections.
The injection process will be very quick and comfortable. We will use our extensive experience to select the best injection sites for this product. In addition, we can use numbing creams and other techniques to ensure that you are comfortable when we administer your treatment.
3. You'll Have a Short Recovery Period
No one wants to spend weeks sitting at home after they receive an aesthetic treatment or procedure. Dealing with a lengthy recovery period can prevent you from completing important work projects in a timely manner. In addition, you might have childcare responsibilities or other duties that make it difficult for you to spend a long time recovering from a cosmetic procedure.
A Minimal Recovery Period
This injectable product is an ideal way to enhance your appearance without taking a break from your work projects, childcare duties, or other responsibilities. You won't have to lie in bed after we finish improving your nasolabial folds. Instead, you should be able to go back to your office or return to your childcare duties.
Post-Injection Rules
Although we won't ask you to take any time off from your responsibilities, we will instruct you to make a couple of minor changes to your usual behavior. In particular, it's important to protect the skin in your treatment area from strong sunlight after you receive your Restylane injections. In addition, you will need to avoid drinking wine, beer, or other alcoholic beverages for a little while.
4. It Works Very Quickly
All of our Restylane products will produce very fast improvements in your folds and creases. In general, your lines will be less visible and your skin will look plumper as soon as we complete your injections.
However, you will not see the final result of your Restylane treatment when you leave our office. Instead, your dermal filler will take a little time to settle into your tissues. You should see the final changes in your treatment area within two weeks.
5. Your Improvements Will Last for a Long Time
Some beauty products and treatments will only enhance your skin for a very short period of time. To keep up your fresh look, you might have to spend a large amount of money receiving frequent touch-up treatments.
Fortunately, our Restylane products can fade your wrinkles for a long time. The exact duration of your improvements will depend on the type of dermal filler that you used. For example, if you used Restylane Defyne to improve your smile lines, your results could last for up to one year.
6. You'll Probably Be Eligible for This Treatment
There are a number of health conditions that can prevent you from receiving an invasive cosmetic procedure. In addition, you might not be able to receive certain types of facials and other beauty treatments if you have sensitive skin or other medical conditions. Unlike these treatments, Restylane is a very gentle, well-tolerated product.
Determining Your Eligibility
Although the hyaluronic acid in our dermal fillers is very gentle, we will need to look at your wrinkles and talk about your health before we administer your Restylane injections.
If you have an allergy to the proteins that are used to make the hyaluronic acid in these fillers, you cannot use this treatment to improve your smile lines. In addition, you may not be able to use these products if you have experienced scarring problems or pigmentation issues in the past.
7. You'll Use a Specially Formulated Product
There are a number of different dermal fillers in the Restylane collection. Some of the fillers in this group are designed to fix deep lines and wrinkles. In addition to these products, the Restylane collection contains smoother fillers with small particles of hyaluronic acid. These products are typically used to give you full, natural-looking lips.
A Variety of Options
If you are trying to improve your nasolabial folds, we will probably advise you to use Restylane Lyft, Restylane Refyne, or Restylane Defyne. All of these products contain specialized hyaluronic acid-based formulas that can smooth away your smile lines without making your face look frozen or immobile.
Choosing a Product
After we have talked about your aesthetic goals, we will recommend a specific filler for you. For example, if you are trying to correct very deep wrinkles around your mouth, we may advise you to use Restylane Defyne to fix this problem.
8. It's Very Effective
All of our Restylane fillers are well-established products with a history of providing reliable results. For example, there is scientific evidence that Restylane Defyne and Restylane Refyne are very good at correcting wrinkles. In a study, 97% of the people who used these dermal fillers said that they were satisfied with their results and would receive these injections again. In addition, 95% of these people would recommend these dermal fillers to one of their friends.
9. It's an Affordable Treatment
All of our Restylane treatments are very affordable and effective.
A Cost-Effective Option
Our prices start at $600 per syringe of Restylane Refyne, Restylane Defyne, and Restylane Lyft. The amount of injectable product that we use during your treatment will depend on the condition of your wrinkles and the aesthetic effect that you are trying to achieve. After we have examined your smile lines and talked about your cosmetic goals, we will let you know how much product we anticipate using during your treatment.
Financing Opportunities
Under some circumstances, we may be able to provide you with financing options for your treatment. For instance, you might be able to use a CareCredit card to pay for your injections. We can give you more information about our financing packages after you book your initial Restylane treatment.
10. You Can Combine Your Filler With Other Treatments
As you get older, you will typically develop wrinkles in the upper area of your face. For example, you might have crow's feet around your eyes and horizontal lines on your forehead.
Although our Restylane products are very good at addressing lines on the lower area of your face, these fillers are not designed to treat crow's feet and forehead wrinkles. Fortunately, you can improve lines in multiple areas of your face by receiving Botox or Dysport injections in connection with your Restylane treatment.
The Benefits of Botox and Dysport
Botox and Dysport are injectable products that contain a protein called botulinum toxin. This protein will smooth your lines by decreasing the movements of the facial muscles in your target location. We can use Botox and Dysport to fix forehead wrinkles, frown lines between your eyebrows, and crow's feet. We can also use this product to improve the appearance of your neck.
Receiving Your Injections
Like our Restylane products, Botox and Dysport are very easy to administer. We will inject your chosen product into your tissues during a short appointment at our office in Omaha. This process will usually take less than 30 minutes, and you will see improvements in your wrinkles within two to three days. These improvements are likely to persist for about three months.
11. You Can Improve Other Facial Features
In addition to fixing your smile lines, our Restylane products can be used to erase other imperfections on your face.
Fixing Other Types of Wrinkles
Our Restylane fillers can be used to fix many different types of wrinkles in the lower area of your face. For example, we can use fillers in this collection to fix marionette lines that appear on your chin.
Enhancing Your Lips
As you get older, your lips will become smaller and voluminous. We can use fillers like Restylane Silk to fix this change by adding extra volume to your lips.
Plumping Your Cheeks
Like your lips, your cheeks will slowly lose volume over time. Our Restylane Lyft filler can correct this volume loss. This dermal filler will plump up your hollow cheeks and give this area of your face a youthful, fuller appearance.
Improving Your Nose
If you would like to change the appearance of your nose without getting an invasive procedure, you should think about receiving a liquid rhinoplasty. During this treatment, we can use dermal fillers to make your nose look more symmetrical and balanced. We can also improve the appearance of your nasal tip and decrease the visibility of bumps or humps on your nasal bridge.
The results of a liquid rhinoplasty are likely to last for up to 12 months. This treatment can be a good way to try out a new look without making a permanent commitment. If you like the results of your dermal fillers, you could achieve permanent changes in your nose by getting a traditional rhinoplasty.
Fix Your Facial Wrinkles
Nasolabial folds will change the appearance of your face and make you look drawn and tired. If you would like to fix this aesthetic problem, you should think about receiving Restylane injections. To learn more about the benefits of removing these wrinkles with this injectable treatment, contact us at Omaha Face Plastic Surgery and Med Spa in Omaha, NE.