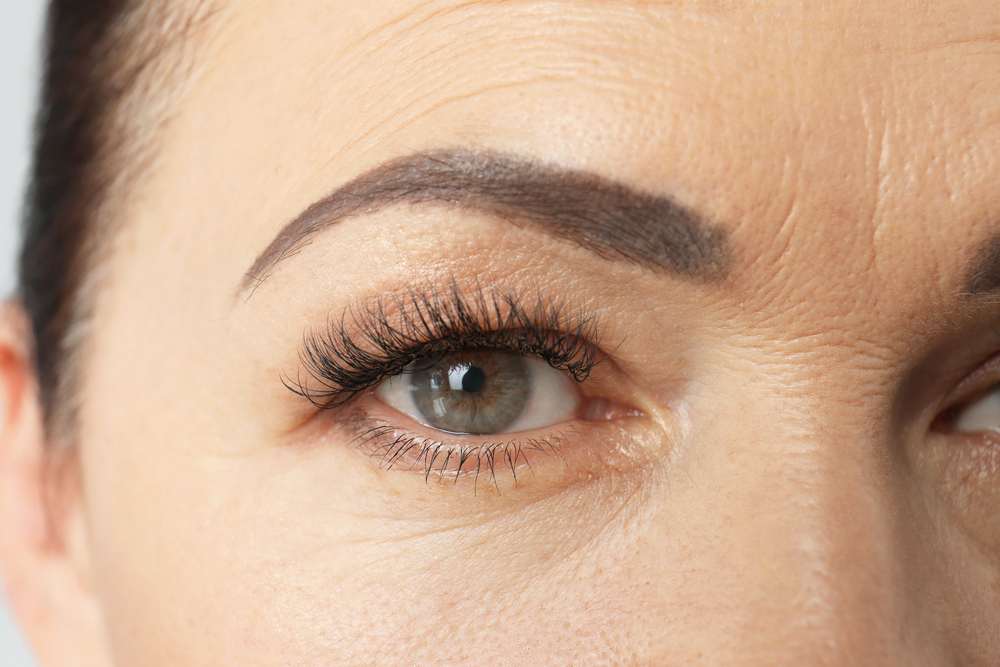 In the last few years, there has been a new beauty trend that is completely redefining the way we interpret beauty. What's the trend? Beautiful, gorgeously full, and artfully arched eyebrows. However, no matter the brow gels and eye creams we use, some of us can't achieve this new beauty standard due to the effects of aging and gravity. But at Omaha Face Plastic Surgery and Med Spa in Omaha, NE, we believe everyone can achieve their ideal appearance goals with the right treatment, such as a brow lift.
Are You a Candidate?
Who is a candidate for this treatment? The majority of patients who are interested in this minimally invasive procedure are qualified candidates. Good candidates for this treatment are usually those who are not satisfied with the shape of their brows and who would like to lift the brows into a higher, more youthful position. Other candidates seek this treatment for reasons such as:
Correcting skin laxity
Smoothing fine lines and wrinkles
Contouring brow arch
Boost overall confidence
Candidates for this treatment are seeking an overall improvement of their appearance, particularly within the upper area of the face. It is possible that this treatment will be recommended to patients who have appearance-related concerns that cannot be resolved by non-surgical cosmetic treatments. Candidates may also include patients who are focused on diminishing signs of aging on the forehead.
What Are the Unexpected Benefits of Brow Lift Treatment?
Are there benefits of this treatment that are unexpected? By happy coincidence, there are actually several surprising benefits that are attractive to potential candidates. Aside from lifting the brows and boosting your overall confidence, other benefits of this treatment include:
Restore and Contour Youthful Arch
As a result of aging, the shape of our brows changes over time, usually losing their shape to settle into a lower position on the forehead. This is largely due to the loss of skin-supporting proteins such as collagen, which slows production as we age. This treatment can restore the youthful shape of your brows and even contour the arch of your brow into a more pleasing line without the use of repeated dermal fillers.
Smooth Forehead Wrinkles
This procedure is sometimes referred to as a "forehead lift" because one of its main byproducts is smoothing the appearance of fine lines and wrinkles on the forehead. Horizontal lines on the forehead can make you look weighed down and push the eyebrows into a lower position on the face. This treatment can smooth horizontal wrinkles and sometimes wrinkles between the eyebrows.
Reduce Lax Upper Eyelids
When eyebrows lose their shape, they typically sink fractionally lower on the face, which can create the appearance of sagging upper eyelids. This treatment reduces the laxity of the upper lids because of the restoration of the brow arch, which lifts all skin tissues into a more youthful state of tightness.
Diminish Crow's Feet
Along with reducing the laxity of the upper eyelids, this procedure also diminishes or eliminates the appearance of crow's feet at the corners of the eyes. Crow's feet are common results of aging caused by increased skin laxity.
Improve Make-Up Application
The application of make-up can also be greatly improved by this treatment. Cosmetics for the eye, particularly eyeshadow and eyeliner, are easier to apply when the skin is tight and supple, meaning the correction of skin laxity caused by this treatment can create a better result following make-up application.
What Do You Need to Know About Treatment?
What are the steps of this treatment? What should you be prepared for? There are a few things you should expect before, during, and after this treatment. Some steps to be prepared for include:
Consultation
You will need to attend a consultation appointment before you can begin your treatment. The consultation appointment can be done in-office or through a virtual visit. The consultation allows our expert staff to determine if this procedure is appropriate for your specific needs. Because this is a surgical procedure, we will need to gather certain information, such as your general medical history, any drug allergies you may have, and any previous cosmetic treatments you have had.
Common Treatment Methods
Part of your consultation will also include discussing which procedure method is appropriate for you. There are many methods that are used to lift the brows and forehead region of the face. The method we use for your treatment will be customized to your exact needs and appearance goals. Common treatments for this procedure include:
Endoscopic Brow Lift
An endoscopic lift is one of the more common methods used today. Many patients opt for this method because it is simpler, easier to conceal, and quicker to recover from. With an endoscopic lift, incisions are made in the hairline, which means this is an ideal treatment for those who have full hairlines and for those who have average forehead height.
Lateral Brow Lift
A lateral lift is generally used to correct the shape of the arch. A lateral lift also uses incisions in the hairline and is ideal for those who have average forehead height, but unlike the endoscopic lift, this method focuses on lifting or contouring the lateral brow peak.
Classic Brow Lift
The classic lift is the most traditional method of this treatment. A classic lift involves a slightly larger incision in the hairline that smooths the forehead and lifts the brows into a higher position. This method also lifts the height of the forehead, which means the results are more dramatic than other lift methods. A classic lift might be ideal for those who have moderate or severe skin laxity around the forehead, brows, and eyes.
Direct Brow Lifting
Unlike the previous lift methods, a direct lift involves making a decision much closer to the brow, usually concealed within a wrinkle on the forehead. A direct lift is generally the method that is favored by male patients, however, it can be used for any patient who has thinning hair or who requires a more subtle lift than other methods.
Transconjunctival Brow Lifting
Similarly to the direct lift, a transconjunctival lift is made closer to the eyebrow than other lift methods. Transconjunctival lifting is done below the eyebrow, typically within the crease of the eyelid to lift and support the eyebrow into a higher position. This particular method is ideal for patients who want to focus on correcting sagging around the eye and who would like to improve the appearance of crow's feet.
Pre-Treatment Guidelines
Before your treatment, we will provide you with instructions to follow. These pre-treatment guidelines will ensure that you are prepared for treatment and should be followed for at least seven to 10 days before treatment. Some pre-treatment guidelines may include:
Avoid blood-thinning medications
Do not take Vitamin E and certain other supplements
Refrain from tobacco and alcohol consumption
Avoid hair coloring or other chemical hair treatments
Fast from food and water the night before treatment
We encourage patients to stock up on certain products before treatment, such as Vaseline ointment. We may instruct you to fill certain prescriptions before your appointment, such as antibiotics. Because this is a surgical procedure, you will need to arrange for transportation on the day of your appointment. Patients are also encouraged to wash hair the night before the procedure, to wear loose-fitting clothing, and to avoid wearing contact lenses or jewelry.
Treatment
There are a few steps that are involved in your actual treatment. Regardless of the specific method that is being used for your treatment, all treatment steps are generally the same. The main steps of your treatment will include:
Step One: Anesthesia
You will be given anesthesia before your procedure begins. Most surgeons use either IV sedation or general anesthesia to ensure your comfort for the duration of your procedure. You will be offered the choice that is most appropriate for your procedure method and your overall health.
Step Two: Incisions
A surgeon will make incisions in the correct locations depending on the method you selected. For this type of lift procedure, incisions are generally made in the hairline, where the incisions are easy to conceal as they heal. Most surgeons need only a few small incisions to lift the brows.
Step Three: Closing Incisions
After your brows have been lifted into the targeted position, your incisions will be closed. Most incisions are closed with dissolving sutures, special clips, or surgical skin adhesive. Your incisions can be easily hidden by your hair as they heal.
Post-Treatment Guidelines
After your treatment, we will provide you with a list of post-treatment guidelines to follow. These guidelines will ensure that you achieve desired results and heal well from the procedure. Post-treatment guidelines should be followed for at least one week and may include:
Keep head elevated
Use iced compresses and surgical dressings
Do not wash hair for three days
Avoid excessive activity and sweating
No direct sunlight or tanning beds
We encourage patients to use the prescriptions and products we recommend as directed. You will likely have a follow-up appointment during your recovery time, which will examine the healing of your incisions and may remove your sutures.
Recovery
Most patients are fully recovered within one to two weeks after the procedure. Your recovery may take more or less time depending on how drastic the lift correction and the exact method of your treatment.
Results
The results from your treatment will be fully apparent when you are recovered from the treatment. Results are generally most noticeable after two weeks, which is when the incisions are healed and you are free to return to all normal daily activities.
How Long Do Results Last?
Results from this treatment can last for a long time. On average, the results from this procedure will last for seven to 10 years at a time. The length of time you can enjoy the results of this treatment may depend on the method that was used.
Will You Need Another Treatment?
You might require another treatment when the results of your initial procedure being to wear off. Many patients only seek further treatment after several years. Other treatments may prolong the results of this treatment, such as dermal fillers, energy-based treatments, or specific topical products that encourage collagen production. If you would like to extend the results of your treatment, please let us know so we can help you discuss all options available to you.
Recapture Your Youthful Appearance With a Brow Lift Today!
Beauty trends are for everyone, including those who struggle with increased skin laxity in the upper region of the face. If your goal is to elevate your beauty standard to correct the arch of your brow and smooth the signs of aging on your skin, then this treatment might be right for you. Now is the time to recapture your youthful appearance! Please contact Omaha Face Plastic Surgery and Med Spa in Omaha, NE to schedule your initial consultation today!